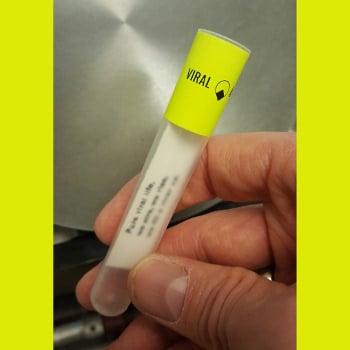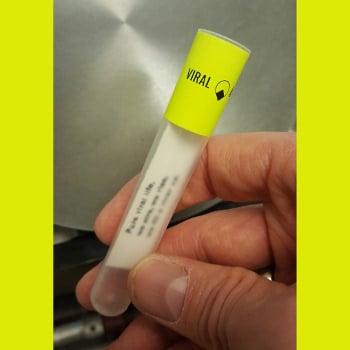 Viral
by Anthony Etherin
$5.00
Viral.
Anthony Etherin, 2018–2019
A letterpress-printed palindrome contained in a 14ml polypropylene test tube.
Viral is a short, resurgent text that reads the same, letter by letter, forwards and backwards. This palindrome is by UK-based experimental poet Anthony Etherin, who runs Penteract Press. Composed in 8pt sans serif type, the text and was typeset and printed on the Adana Eight-Five on archival card with the assistance of Flourish Klink. The test tube is labeled with the title and the author's name; the label, laser-printed, is of salvaged consumer-grade paper. The polypropylene test tube will not break during shipping — or in any other circumstance.
Edition of 100, published February 2019 by Bad Quarto.
$5